8 hours private day trip from Phnom Penh to Udong and back
From Phnom Penh to Udong, the ancient capital of Cambodia, learn the authentic riversides life, Udong historical site and his stunning overview on countryside and river. Cruising on the Tonle Sap river, you will discover the scenic life on the river: floating houses, traditionnal fishermans, pagodas along the river… on a very intimate 8 Hours private cruise (except shared cruises discounted). The boat and its crew are fully at your service.
Arrived near Udong, a 10mn trip by tuk-tuk (6km) brings you almost at the top of Udong Hills with the Khmer/English speaker boat manager. With his old stupas and pagodas, the site, heart of the former capital of Cambodia, offers a great view over authentic Cambodia, from small villages and ricefields, to the Tonle sap river.
After 1 hour and half, you are back on board and enjoy a cocktail and while the boat is reaching a quiet and green area on the riverside, near a pagoda. Then, lunch is served in a quiet and breezy atmosphere. Around 2PM, the Sat Toung or Marie-Deauville boat goes back to Phnom Penh (arrival at approximately 16.15PM).
Port taxes, breakfast, 2 soft drinks and one alcoholic beverage (cocktail, beer or spirit), tuk-tuk transfers from your hotel (before departure), to Udong and site visit with our guide, lunch (with one bottle of red or white French wine for 4 people) on board are included in the ticket price.
The best and way to discover Udong and Tonle Sap river, avoiding busy roads
Attention especially for the discovery cruise of Udong
Clothing was expected based on the seasons and clothing and mosquito protection
For day cruises and tours, plan next season sunscreen – preferably 50 index (all year), hat, a fine rain cape purchasable on site (from April to October – especially in September and October) a small sweat (December to February), walking shoes (avoid sandals).
The mosquito repellants are not required on board, mosquitoes are virtually absent on the rivers.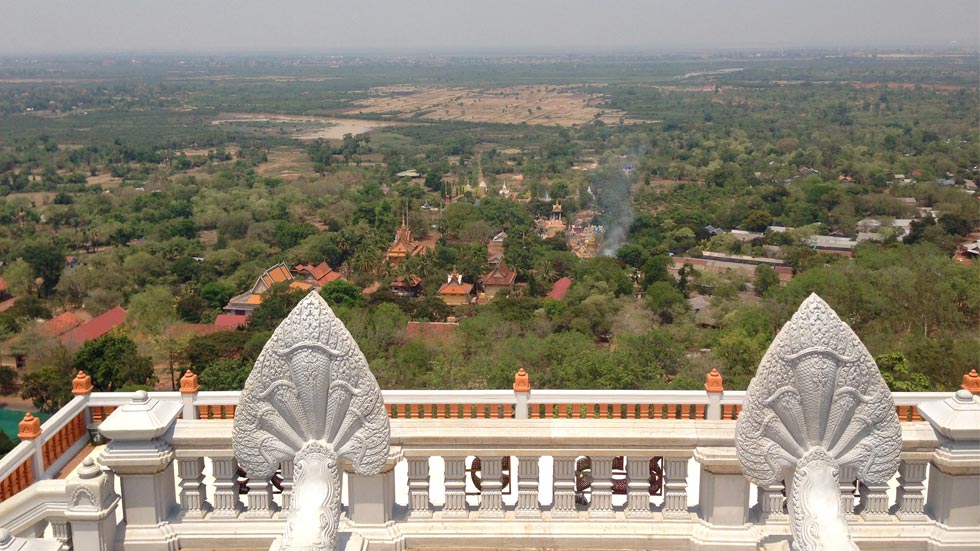 Guided tours of Udong need not be the bearer of respiratory diseases and especially coronary diseases. The discovery of Udong requires many steps to climb that can be very challenging especially in hot weather in April and May. Those who wish can get around the hills of Udong site by uk-tuk.
Equipment available for children
Are available on board of both boat life jackets for all ages
Consult the detailed standard menu and drinks available on board.
– Private booking package of the Sat Toung (traditional wooden boat 26 meters long) or Marie-Deauville and his crew for a private cruise: $ 200 (Includes the privatization of the boat for 8 hours, diesel, 5 members of crew, port taxes in Phnom Penh and Oudong, the tuk-tuk between the boat and Udong hill, VAT).
– $ 30 per person (including pick up from your hotel in the morning, breakfast, an alcoholic aperitif with spring rolls and appetizers, lunch with a bottle of French wine for 4 passengers, 2 non-alcoholic beverages, entrance fees on the site of Udong, VAT).
| | | | | | | | | | | |
| --- | --- | --- | --- | --- | --- | --- | --- | --- | --- | --- |
| Number of passengers | 1 | 2 | 3 | 4 | 5 | 6 | 7 | 8 | 9 | 10 |
| Price per person (adult) | $245.00 | $130.00 | $96.67 | $80.00 | $70.00 | $63.33 | $58.57 | $55.00 | $52.22 | $50.00 |
In practice:
– Detail of the standard menu and drinks available on board.
– Private cruise discover Udong: From 15 US $ (Children price) and 30 US $ (Adult price) – Except for joining promotional cruises.
– For more information on the conduct of our cruises, do not hesitate to consult our FAQ.
– Please read our general conditions of sale.
– Our commitment for authentic and safe cruises and eco-friendly / solidarity.
– We do not ask for any deposit when making your reservation. We ask for confirmation of your arrival only 2 days before the date of your cruise by paying a deposit of 30% of the cruise price.
 Departure: 8:00 am – Return: 16:15 pm to Phnom Penh (departures every day according to the availability of the boat). Schedules may vary depending on the season.
Departures every day depending on the availability of the boat.
Boarding at Titanic passengers tourism port, on Sisowath Quay, in front of street 104, Phnom Penh.
Reservations at least 48 hours before the departure of the cruise.
Searching Availability...