CAMBODIAN CRUISES BOAT SETTINGS
The Marie Deauville was a traditional wood construction boat. It was built in 1999 and renovated in December 2010. This boat can take up to 25 people cruises).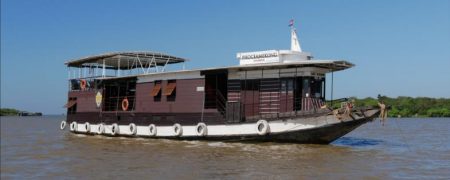 The Sat Toung is a boat launched in December 2012, completely refitted with 4 cabins in June 2017 and start exploitation with cambodian cruises on february 2020. This vessel with very low draft and stability at the cottage has been designed for long journeys safely, and sail on the Tonle Sap Lake at least 7 months a year (exclusivity Cambodian cruises).