About us
Cambodian cruises, based in Phnom Penh, offers comfortable and authentic cruises "all inclusive *, drinks and meals." We have at heart to develop charming cruises, intimate and very exclusive, appreciated by our visitors.
The Marie Deauville and Sat Toung are above all owners' boats put at the disposal of a privileged few. Lovers of Cambodia since 1992, owners are happy to share their passion for this country and its inhabitants with some passionate people like them. In perfect association with Khmer people themselves from Cambodian rivers, we wish to take our guest, in complete privacy, and with the greatest respect to the rivers and its people in contact with floating villages and fishermen (see our eco-friendly and solidarity commitments).
This Franco-Belgian couple also founded in 2009 the NGO "Ptea Clara", a children's home that helps in 2020 more than 150 children in the province of Kandal. Part of the profits of Cambodian cruises is donated to this NGO.
Our authentic cruises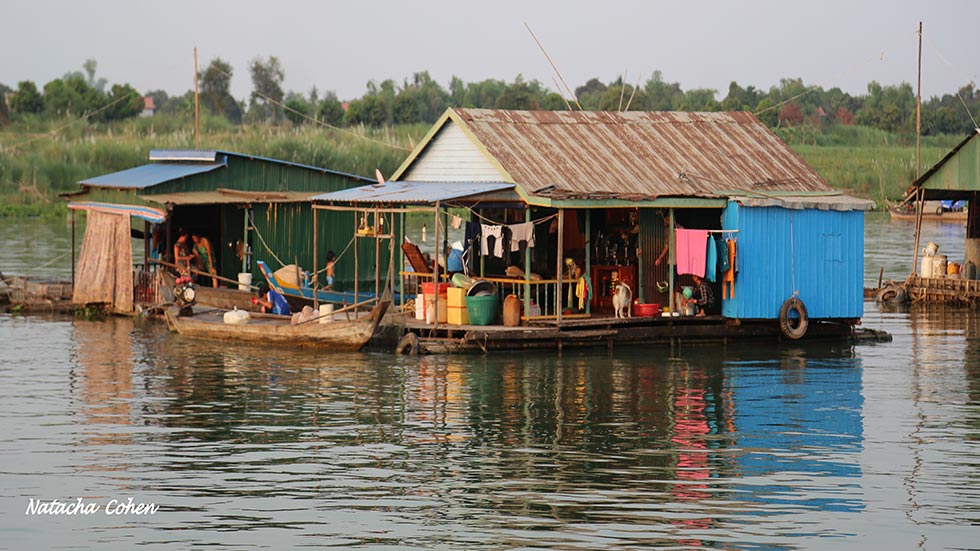 From Phnom Penh, Siem Reap or Battambang, enjoy a cruise all included outstanding (*) on the Mekong or Tonle Sap River, in the calm and the greatest serenity. Throughout the year, enjoy this unique experience of escape in the heart of authentic Cambodia.
During your cruise, be guided by our team entirely dedicated to your needs. With our all-inclusive packages (*), your cruise will be nothing but a moment of peace and quiet where you can relax while drinking tea, coffee, soft drinks or delicious cocktails (**) while watching the scenery increasingly savage scrolling majestically in front of you.
Indulge yourself with our unique all inclusive day cruises concept: Except for alcoholic beverages (one alcoholic drink offered per person), once on board, you don't need to spend money anymore (**). Boat trip, boarding and disembarking (port taxes), breakfast, lunch or dinner (selection of western-asian BBQ with fresh food products shrimps, fish, chicken, pork, cooked on board, fresh fruits), free flow of softdrinks, one bottle of French wine for 4 people, and one alcoholic drink (the first beer or spirit is offered, then are available for purchase) are included in your ticket price! During excursions (Udong tour) transfers by tuk-tuk, english speaking guide, and sites access fee are included too. Just come, relax and enjoy in a comfortable, scenic and breezy atmosphere on the river with a full service.
From breakfast to lunch, with cocktails served along the journey, our passengers discover a timless experience, overlooking the wild and mythic Mekong river.
The safety of our passengers is a major concern of our company. Our 2 boats are insured with "FORTE Insurance", very recognized in Asia, have all the official operating licenses to browse all Cambodian territory, all safety equipment requested by the Ministry of Transport, the captains their navigation licence and minimum 5 or 7 crew members on board (depend of cruise).
The main causes of accidents are waterways on hulls poorly maintained, and electric or kitchen fire. Our ships are regularly maintained by our own team to maintain our high standards of quality and reliability.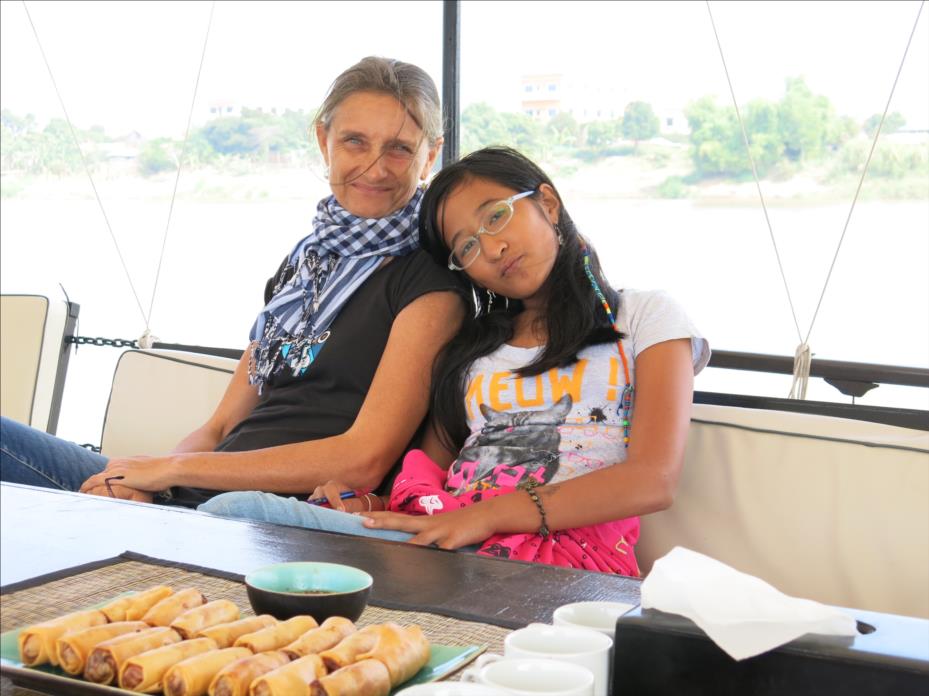 Cambodian cruises is intimately involved in supporting the NGO "Ptea Clara" (home of Clara in Khmer). Sandra, our director of operations is also the founder of "Ptea Clara".
(*) For romantic and escape cruises
(**) Romantic cruises and escape cruises – One alcoholic drink offered per person.
A bottle of French wine for 4 people if lunch or dinner included on Sat Toung.